So you've cleaned out that cluttered medicine cabinet and tossed all those outdated medications.
You've also arranged for a Medication review with Paolo and the team at Medicine Shoppe to review your medications, make sure there are no conflicts and that you're using your medications correctly.
So is that everything you can do to stay on top of your medication management? Well, there is one more thing you can do!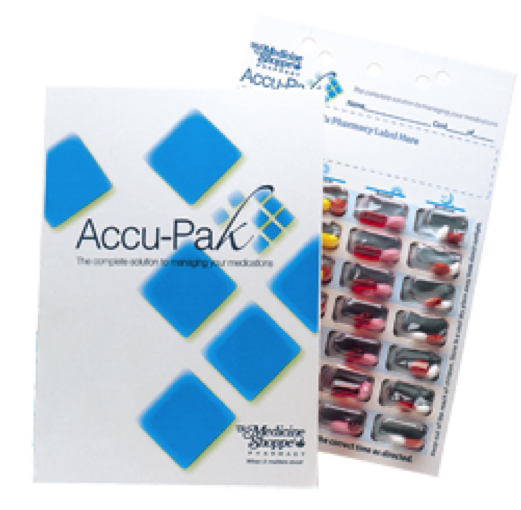 As we age, the types and numbers of medications we take increases. It's almost unavoidable.
As our daily regimen of tablets, pills and other medicinal products grows, it becomes tougher and tougher to stay on top of it all.
That's where the Medicine Shoppe's Accu-Pak custom prescription card system can be an enormous help!
If you're on 3 or more prescriptions, never miss a dose again!
The Accu-Pak system is basically a simple to follow card which seals each of your pills and tablets in a blister pack window for each day of the month.
Want to know what to take today, just pull out whatever's in today's window.
But is it only good for prescription drugs?
No. The Accu-Pak card can be used for vitamins and over the counter drugs too! This makes staying on top of your vitamin routine easy!
And the best part is, your Accu-Pak is absolutely free.
No more pill bottles, no more filling little plastic pill boxes every month.
Just speak to your pharmacist at Medicine Shoppe in West Kelowna and we'll prepare an Accu-Pak card for you!